Phillipe Wolfers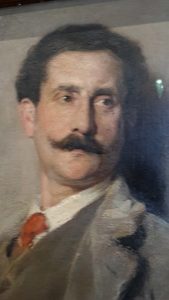 Born in 1858 in Belgium,
Phillipe Wolfers (1858 – 1929)
A jewellery and glassware designer who created some of the finest pieces of the Art Nouveau period.
Son of Louis Wolfers, head of the Belgian court jewellers Wolfers Freres, Phillipe began working alongside his father aged 16 and trained as a jeweller within the family business. He later studied plastic arts at the Académie Royale des Beaux-Arts until he graduated in 1875.
---
Wolfers Freres Store Front
With a great interest in  Japanese decorative art, his work was soon noticed by King Leopold II and in 1898, the Congo Free State commissioned Phillipe Wolfers to create 'L'Album Congolais' as a gift for the state secretary of the Congo Free State, Baron Edmond van Eetvelde.

---
Philippe Wolfers Jewellery
In 1905, he created a series of 109 unique jewels as part of his Ex (exemplaire) Unique range, each marked to distinguish them from jewellery made by the family firm Wolfers Freres.
This exceptional  choker necklace for instance, comprised of five sets of wisteria is set with carved watermelon tourmalines and carved opals an example of him using on of his favourite stones with beautiful green and purple plique a jour enamel leaves which is signed 'PW' for Phillipe Wolfers, it also bears the marks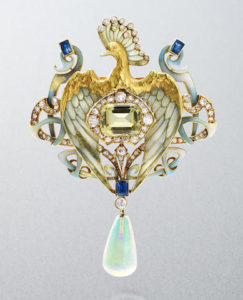 'Huppe', no. 135 from Phillipe Wolfer's Ex Unique range is a gorgeous enamel, peridot and diamond brooch pendant with opal drop. This exquisite piece sold for £23,750 at Bonhams in 2012.
Phillipe Wolfers Huppe Pendant
A famous piece is the 'Nike' pendant exhibited at TEFAF by Epoque Fine Jewels.
A gold, enamel, ruby, sapphire and opal pendant depicting the Goddess of Victory.
Throughout the years Phillipe Wolfers created some of the most iconic and well-known pieces.