Hidden Meaning and Acrostic Antique Victorian Jewellery
---
How you can identify an Acrostic or sentimental piece of Jewellery:
The ring must be mounted in gold or silver

What gemstones are in the ring? Do they spell a name or meaning?

Does the setting and metal show signs of wear?

Are the diamonds old cuts and of slightly different sizes?

Does the item open up to show a hidden message?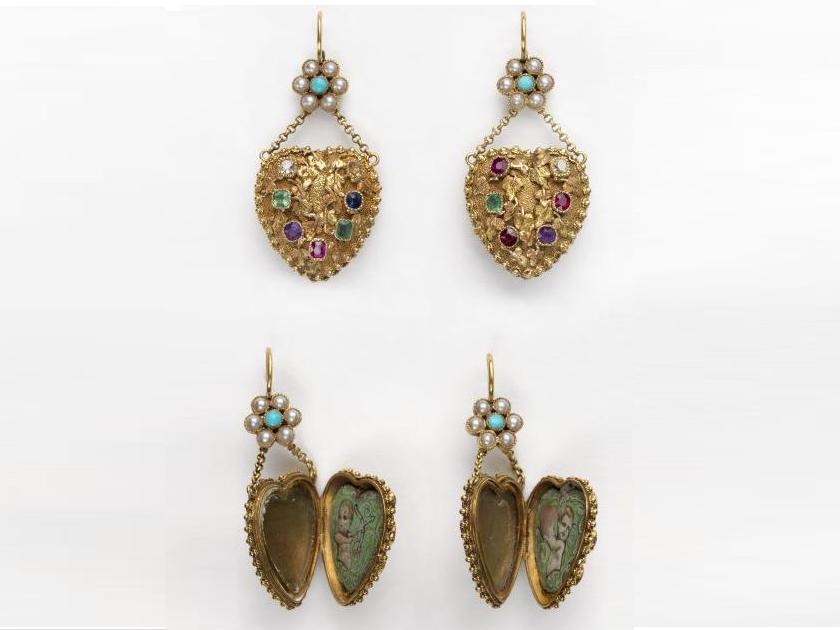 A pair of Regency gold and multi gem set 'Dearest' and 'Regard' locket earrings, circa 1830, one heart shaped drop set with diamond, emerald, amethyst, ruby, emerald sapphire and topaz spelling 'Dearest', the other with ruby, emerald, garnet, amethyst, ruby and diamond spelling 'Regard' in gold foliate chased surmountsThe design/symbol of the ring, this can include; hearts, horseshoe, clasped hands, serpents, flowers and plants.
---
What is Acrostic Jewellery
Jewellery of love and sentiment included acrostic brooches, rings and pendants.
Acrostic jewellery is believed to have originated in Paris in the early 1800s and was first created by Mellerio, a famous Parisian jewellery company, before being adopted in England. In the Georgian and Victorian period secret messages and symbols were very popular as a way of expressing their feelings.
The Victorians were masters of hidden messages. This was the beautiful way a man could express his love by presenting a ring to their loved one or the one they liked to get their attention.
When it came to courting, men went through complicated processes to court women, closely guarded by their parents and chaperones. Jewellery expressed a deep message more than he was able to communicate in person.
---
So what to look for……..
Messages were spelled out by using the initial letters of precious or semi-precious gemstones set in gold.
---
Symbols
Sentiment jewellery became popular throughout the Middle Ages and well into the 18th century.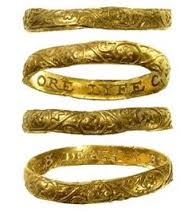 Rings were made with sentimental inscriptions engraved onto the surface, or inside the ring. These rings, referred to as 'Posy rings', can look like a plain wedding ring with the inscribed wording usually in English or French.
Pearls were used as a symbol of tears and used in a lot of mourning jewellery. These were worn when they were thinking of a departed loved one.
---
Hearts
The heart shape has been popular since the 17th Century to the present day. The combination of 'two hearts entwined' means forever in my heart.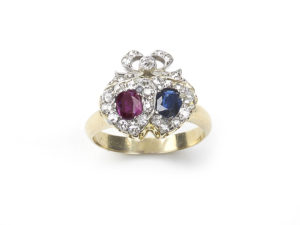 We see a small amount of Georgian examples. Good examples are rare to come across and are therefore more desirable. They would be set with old mine cushion cut diamonds and gemstones with closed backs and detail to the shoulders with a bow or miniature coronet to the top.
A crown on the top of a heart symbolises ruler of my heart. Victorian Heart jewellery is of similar design just a little bit heavier in the style and setting with open back work.
The image shows two hearts with a bow motif, which symbolises intertwined love and the design was popular with young couples in late Victorian period.
---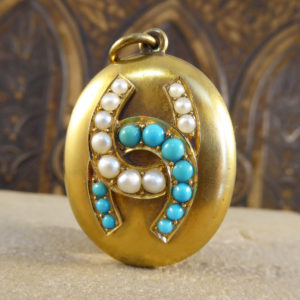 Horseshoe
The horseshoe is symbol of good luck and protects from evil, which became popular around 1880, when there was an increase in superstition. It was also thought that the horseshoe should always have the opening pointing upwards, as if it was turned around it was bad luck as all the good luck had been poured out
---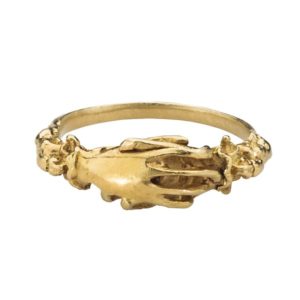 Clasped hands or Fede
Hands clasped or offering flowers are a symbol of friendship. They are also known as Fede rings.  Good examples of these rings will have very detailed hands and sometimes gemstones set to the fingers. They also made Fede rings that opened up to revel a heart or flower underneath.
---
Snake or serpents
Queen Victoria's engagement ring from Prince Albert was a snake with its tail in its mouth, which was a symbol of eternal love and everlasting.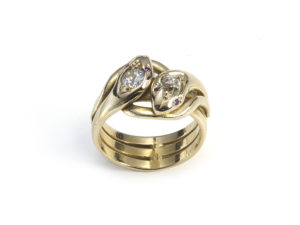 Peaking in the 1840s, the snake represented wisdom and eternity during this period and was the popular motif on rings, bracelets, brooches and necklaces.
Snake rings were made in a number of different styles. The bodies of the snake were made up of one, two or three gold bands sometimes with jewelled heads set with diamonds or rubies. The finest and well-made snake rings will show well-defined snakeheads.
The serpent bracelet and necklace was designed to show a serpent coiled around the wrist or neck. The finest snake necklaces have a royal blue enamel head encrusted with diamonds, pearls or gemstones with ruby or diamond set eyes. Usually a heart shaped pendant containing a lock of hair was suspended from the reptile's mouth. In other examples the snake would have a gold-coiled body encrusted with turquoise, or just the head, which was a popular design.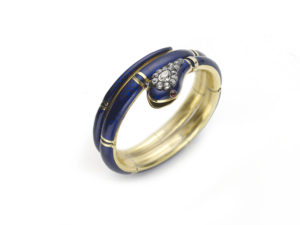 The best examples of a serpent bangle were the ones made with royal blue enamel and hinged so they could be worn without a clasp 
---
Flowers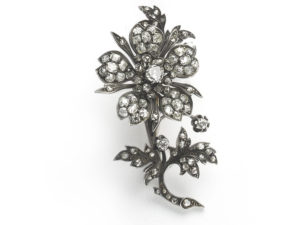 Flowers symbolise the biggest part of all the jewellery symbols. From around 1830 it became popular to "say it with flowers" a way to express their love and friendship. Popular motifs included Pansies, forget me not, and roses made from gold and silver set with diamonds and turquoise on brooches, earrings, lockets and rings. A large selection of Forget me not flowers were set with turquoise, which was chosen for the colour and became known as the gemstone for the forget me not motif.
By the 1850s the early designs had given way to more extravagant and complex works of art with extreme sprays of diamond encrusted flowers and large corsage ornaments sometimes featured naturalistic green enameled leaves.
---
A list of a few floral symbols:
Forget me not- Remember me and true Love
Chrysanthemum – love
Ivy- Everlasting love and marriage
Pansies – Thinking of you.
Fern – Sincere
Rose – love. Hope. Joy
---
Other sentimental themes included love and song birds, hair jewellery, Mizpah brooches which means The Lord watch between me and thee when we are absent one from another" and miniatures.
For example, a brooch with a honeybee and a crescent moon could represent the word "honeymoon" and would possibly be a gift from a husband to his new bride on their wedding night.