LEARN

ABOUT

 SERPENT AND SNAKE JEWELLERY

The History Behind Snake Jewellery
Serpents are one of the most ancient mythical creatures known, dating all the way back to ancient Egyptian and Chinese mythology.
Their symbolism dates back thousands of years and many cultures have used the snake to represent various things including good, evil, rebirth, poison, fertility and death.
Although there are plenty of negative connotations, there are also many positives, too.
Ancient Egyptians used snakes as a symbol or royalty or deity, whilst in Hinduism, it represents sexual passion and desire.
In ancient Chinese mythology, the snake is closely related to the Gods and that it could prolong your life, seen as a symbol of reproduction and good luck.
In Roman mythology, the snake is believed to represent everlasting love.
Greeks also looked toward the serpent as a symbol of wisdom
Asclepius the Greek god of medicine held a rod that bore one snake. This snake winds around a Rod of Asclepius asymmetrically, and there are no wings.
Caduceus is a symbol with a short staff entwined by two serpents, sometimes surmounted by wings
---
From The Victorian Times – Snake and Serpent Jewellery
Queen Victoria took her beliefs from when Prince Albert proposed to her with a continuous snake ring, set with her birth stone, emerald.
She then announced the snake as a symbol of eternal love.
After the proposal, snake jewellery became very popular through out the Victorian era.
In 1840's the snake is seen to represent eternity and wisdom.
Rings, bracelets, necklaces, brooches and pendants all had snake designs
---
Snake Rings
The Victorian snake rings were made and designed in a number of different styles.
The bodies of the snake were made up of one, two or three gold bands
Most snakes of the victorian period had gemstones set to the head or eyes these were normally diamond or rubies.
The finest and well made snake rings are more defined and detailed heads.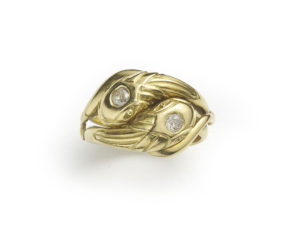 ---
Snake Bracelet and Necklaces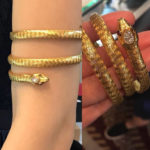 The serpent bracelet and necklace are designed to show a serpent coiled around the wrist or neck.
BLUE EN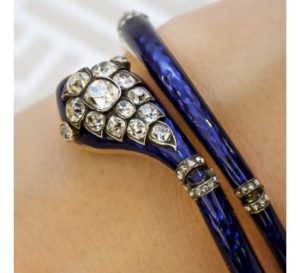 AMEL SNAKE 
The finest snake necklaces have a royal blue enamel head encrusted with diamonds, pearls or gemstones with ruby or diamond set eyes. Usually a heart shaped pendant containing a lock of hair suspended from the reptile's mouth.
In other examples the snake would have a gold-coiled body encrusted with turquoise, or just the head, a popular design.
---
---
VINTAGE SNAKE JEWELLEY
---
Cartier Snake Necklace 
In the Mid 20th Century snake jewellery started making a come back by the famous jewellery houses using this theme.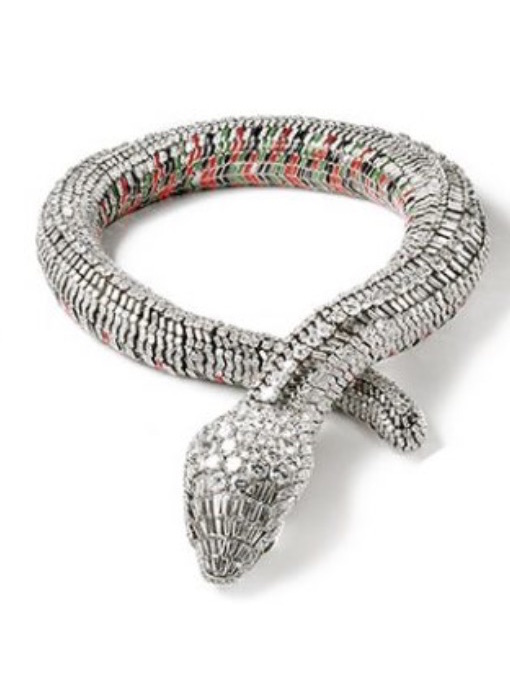 Cartier made a snake necklace in 1968 for the Mexican actress mounted in platinum with 2,473 diamonds. The underside is enamelled in red, green and black, so the piece can be worn in two ways as it's completely reversible.
---
Bulgari Serpent Snake Jewellery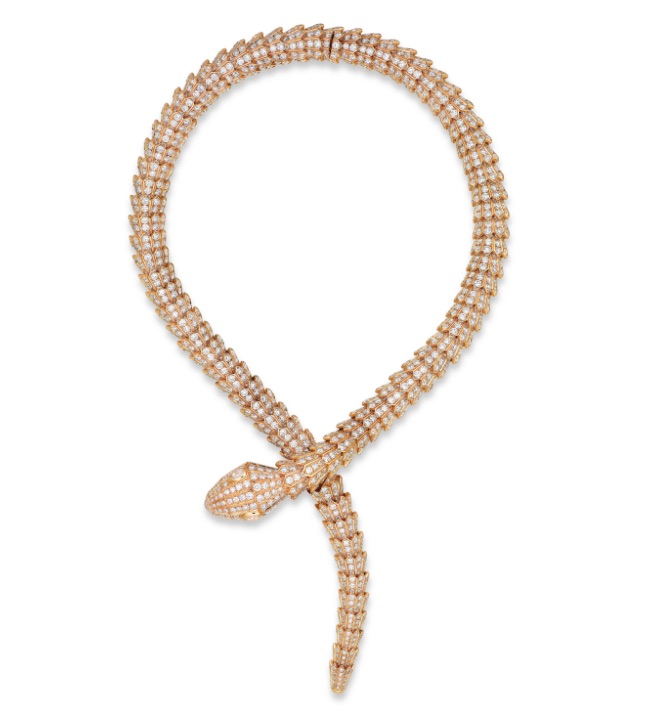 The Jewellery House of Bulgari began producing snake-inspired bracelets in the late 1940s to the present day. The snake become a symbol for their brand.
In the 1960s, a variety of -style Serpenti watches were introduced in yellow gold, white gold or a combination, and various enamel examples were also offered, many with diamond and other gemstone accents which were one of there most popular and desired ladies watches.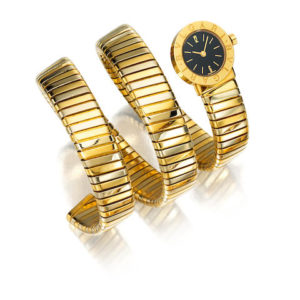 Also during this era, a specially made Serpenti adorned the wrist of on the set of "Cleopatra," further drawing attention to this icon-in-the-making and no doubt enhancing its already-wide appeal. They also created one-of-a-kind bracelets for celebrities such as Elizabeth Taylor as shown below which made the demand even higher.
In the last few years snake jewellery is one of the latest trends with lots of celebrates wearing snake necklaces  and eye catching and great statement piece of jewellery.
---