LEARN ABOUT GEORGIAN JEWELLERY
---

Georgian Jewellery period covers most of the 18th Century and the beginning of the 19th and takes its name from the four successive Kings, Georges I – IV, who ruled consecutively between 1714 and 1830.
---
Jewellery of the period is characterised by a sense of abundance whilst remaining elegant and balanced with a fashion for large pieces and jewels worn in quantity such as rings on most fingers, layers of long chains and multiple bracelets or bangles.
The jewellery for women changed fashion from month to month, shapes went in and out of style and the jewellers maker known as the goldsmiths were highly skilled in all areas of gold work.
Georgian rings were produced between 1714 and 1830 which makes all Georgian rings rare and handmade to the finest quality.
The style of rings includes:
Mourning rings which include Hair or the deceased name or initials in a band form.
Large statement rings – long and wide Diamond clusters
Single stone rings – would normally be set in a silver cut down setting.
Five or seven stone rings
---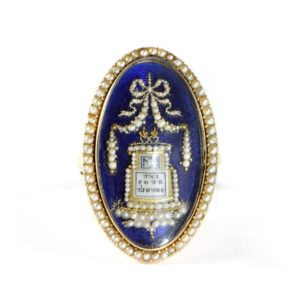 The prolific use of multi coloured enamels fell out of style, partly due to an increased availability of a much wider range of gemstones.
These were used to 'colour' jewellery without the dependence on enamels and were used effectively in all manner of jewels such as the popular giardinetti (little garden) brooches and rings that consisted of coloured gem flowers with emerald leaves in little pots or vases.
---

A
crostic jewellery
They also facilitated the fashion for acrostic jewellery where the initial of each gemstone would spell out a word, typically a name or sentiment such as 'dearest' or 'regard' which would have been made up with a ruby, emerald, garnet, amethyst, ruby and diamond.
---
Sentimental jewellery was very popular during this period and it was common for friends, family and sweethearts to exchange jewellery as gifts with engraved messages, locks of hair and classical symbolism all used to convey meaning and sentiment.
This ring shows the great work of the goldsmiths with extra detail in the hand carved decorative scroll work shoulders 
The romantic 'lover's eye' painted miniatures that gained widespread favour were particularly enchanting gifts, the givers identity concealed except for the window to his or her soul framed by pearls, diamonds or coloured gems. Similar motifs were also used in mourning jewellery which saw a pronounced stylistic change during the latter part of the century.
The prevalence of graphic depictions of death such as skulls and skeletons which had been borrowed from the Memento Mori tradition gradually waned in favour of columns, urns, weeping willows and female figures in classical robes.
Chatelaines were the accessory du jour for ladies and could be made from cut steel, silver or gold. They hung from the waist and would conceal any number of useful household tools in miniature such as scissors, a pencil, tweezers, thimble and vinaigrette.
For gentleman, jewelled buttons and shoe buckles were the height of fashion with many being made from paste set in silver. Paste (manmade glass) was widely used in the Georgian period, providing a more affordable means for many people to keep up with the trend for multi gem-set pieces.
Whilst initially used to imitate genuine gems, paste quickly became a fashion in its own right with a wide range of colours available due to the brightly coloured foils which were placed behind the stones and enclosed in solid backs.
Popular items of the day such as brooches, corsages and rivière necklaces were created in paste and they are now very collectible. Possibly one of the most quintessential of Georgian jewels was the suite or parure as it was known.
Typically made in gold and often showcasing techniques such as repoussé and later cannetille work, they would be set with gems such as topaz, amethyst and aquamarine which were frequently foiled in the same manner as the paste jewels either to enhance their colour or just to add brightness.
Many of these pieces survive today, having escaped the fate of so much diamond jewellery from this time which it was customary to break up in order to reuse the stones and metal to create new pieces as styles changed and fashion dictated. It is for this reason that in spite of the discovery of diamonds in Brazil in the 1730's which vastly increased the availability of these sought after stones, relatively little diamond jewellery from this period survives.