TEFAF FAIR MAASTRICHT –
JEWELLERY HIGHLIGHTS 2020  
TEFAF Maastricht is world-renowned as the fair for fine art, antiques and design. Featuring over 275 prestigious dealers it is the place to find the finest Old Master paintings, antiques, classical antiquities, modern and contemporary art, photography, jewellery and 20th century design currently on the market.
---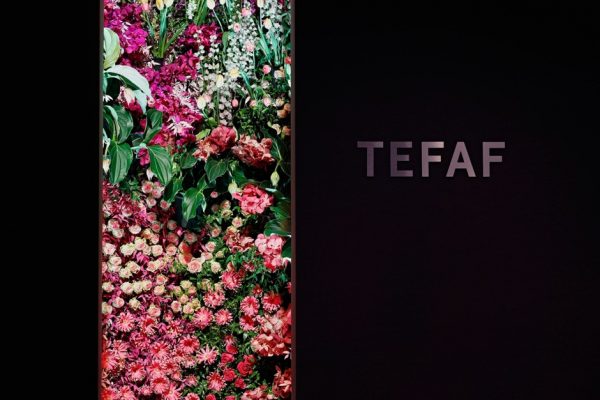 TEFAF Maastricht 2020 (March 7th – 11th) was the thirty-third year of this truly spectacular fair – a place where 7000 years of art history harmoniously came together for five days.
This year's fair included items from some of the world's finest modern jewellers including Wallace Chan, Cindy Chao, Hemmerle and Otto Jakob, alongside examples of antiques from dealers such as London's Wartski, Symbolic & Chase and Hancocks – amongst many others.
TEFAF Maastricht is truly unmissable.
Here are just a few of our highlights from this year's event:
Wallace Chan – Snowflake Brooch
Hong Kong based artisan jeweller Wallace Chan only showed three new jewels this year.  The statement piece was The Snowflake – a magnificent titanium brooch which combines yellow diamonds with aquamarines, green tourmalines and sapphires along with Chan's famous 'Wallace Chan porcelain'. All set in titanium, anodized to create stunning colours. The snowflake is set with a central 7.86 carat yellow diamond. Constructed in two layers, the top layer rotates allowing the appearance of the snowflake to change.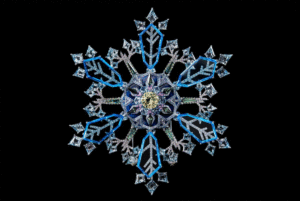 Wartski – Hen Earrings
London's Wartski showed these wonderful and extremely rare earrings in gold, silver, steel and enamel in the form of hens nesting with eggs in woven gold baskets.
The hens, affectionately known as 'cocottes', date from the period of the 1867 Exposition Universelle in Paris.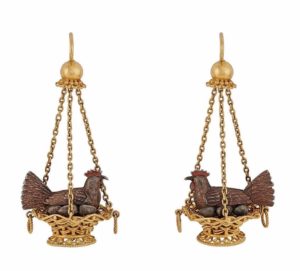 Cindy Chao – The Butterfly
Taiwanese high-jewellery designer, Cindy Chao is the creator of some of the world's finest jewellery. Each year she releases only thirty of her stunning pieces, each of which is exquisitely crafted and take months to create – such as a single earring consisting of an astonishing 300 carat emerald and a butterfly brooch layered with approximately 2000 rare gemstones which was designed in collaboration with Sarah Jessica Parker.
Each year, Cindy Chao creates just one butterfly. This year's butterfly is her Black Label Masterpiece I 'Aurora Butterfly Brooch'. This magnificent masterpiece features an impressive 6,023 stones consisting of 8.48 carats of  'pigeons blood' Burmese rubies, triangular rose cut diamonds and graduating blue sapphires layered with yellow diamonds, all set within titanium and aluminium.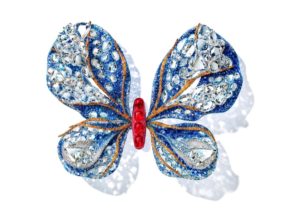 Epoque Fine Jewels – 'A Bird Brooch' by Cartier
Specialising in the finest 19th and 20th century jewellery, Epoque Fine Jewels showed this magnificent brooch simply titled 'A bird brooch' by Cartier, circa 1964.

Comprised of a mother parrot set with a large carved emerald in a circular cut ruby surround and ruby eye, and a baby parrot with a cabochon ruby head and black enamel collar. The bodies are set throughout with diamonds and mounted in platinum and 18 carat gold.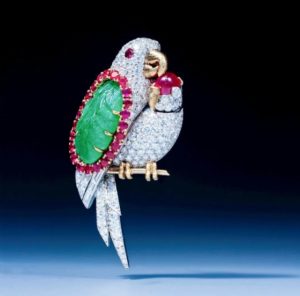 Hancocks – Antique 20.20ct Pear Shaped Diamond
Established in 1849, Hancocks, based in the historical Burlington Arcade in London, are leading dealers in fine and collectable jewellery as well as specialising in old cut diamond jewellery and this particular piece is certainly spectacular. 
A magnificent 20.20ct antique old cut, pear shaped diamond of H colour and VVS2 clarity and is circa 1900. The diamond itself is set in a pendant which is suspended from a pearl chain.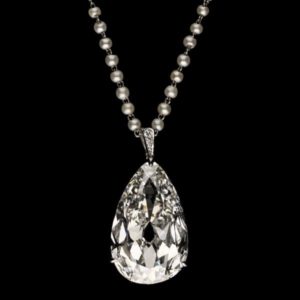 Marjan Sterk – Cartier Daschund Cufflinks
Dutch jewellery dealer Marjan Sterk specialises in fine antique and vintage jewellery. Her collection comprises jewellery from the early 19th century to contemporary artist jewellery and includes highly decorative gem set jewellery and sculptural designs. Her main focus is on signed post-war jewellery from the most influential jewellery houses such as Cartier, Van Cleef & Arpels, Boivin, Tiffany & Co., Boucheron and Belperron amongst others. 
We absolutely love these adorable Cartier Daschund cufflinks that she brought with her this year!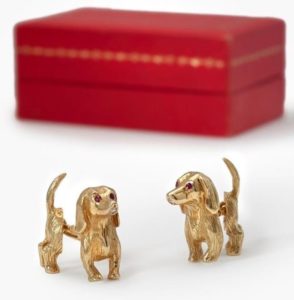 Symbolic & Chase – 'The Perfect Pink' Diamond
Whilst there were naturally many statement diamonds at this years fair, one of our favourites was this one from London's Symbolic & Chase.
A 14.23ct emerald cut, fancy intense-pink diamond known as 'The Perfect Pink' and it's quite clear to see why.
Originally discovered at the Argyle mine in Australia, it last sold at auction in 2010 for $23.1 million and hasn't been on the market since.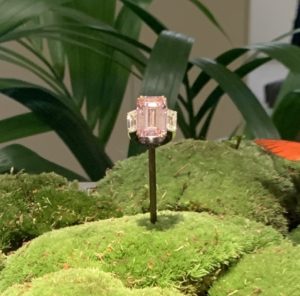 Bhagat – Burmese Sapphire and Diamond Ring
Family run, Mumbai-based jeweller Bhagat made their debut at this years fair. Bhagat produces less than 60 unique handmade pieces a year and only work with the most precious of gemstones which are usually rare and 0ften in vintage cuts and mounted in platinum.
The centrepiece of their debut was this incredible Burmese sapphire and diamond ring. Set with a sugarloaf Burmese sapphire, diamonds and sapphires set in platinum – a fantastic choice for their debut!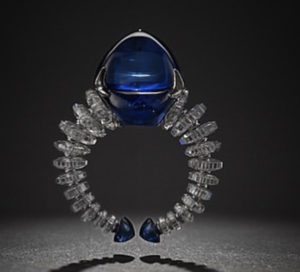 Symbolic & Chase – Vamgard Micro Mosaic, Carbon Fibre, Bronze, Gold and Diamond Snake Bracelet
Symbolic & Chase offered this incredible bracelet by the Italian brand Vamgard, with Maurizio Fioravanti. Symbolic & Chase describe the piece as "designed as four arched soft-rectangular-shaped plaques of carbon fibre embellished with bronze veining, each applied with a coiling snake micro mosaic, those coiled to the base of the plaque embellished with single-cut diamond set clouds above them, those poised atop the plaque with similarly-set turbulent waves beneath them, signed Vamgard Roma, 2020."