The Hancock Red is one of the most famous red diamonds.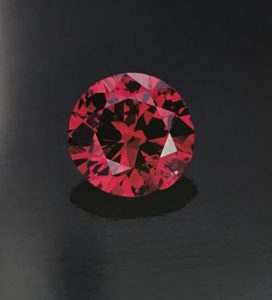 At the time of its sale in 1987 it was the most expensive per-carat gemstone ever sold at auction. The hammer came down at $880,000—a remarkable $926,315 per carat, eight times its pre-sale estimate.
It sold for over $926,000 per carat! The Hancock Red was sold by the heirs of the American owner, Warren Hancock, a Montana rancher and diamond collector. Mr. Hancock bought all of his diamonds at retail prices from his local jeweller, and he had reportedly paid $13,500 for the 0.95-carat red diamond in 1956. It is fair to say this was one of the greatest gemstone investments of the century.
What Causes the Red Colour:
Coloured diamonds typically get their fancy hue from chemical impurities such as nitrogen and boron, but red diamonds contain zero impurities; they're actually all pure carbon. The red comes from a rare deformation in the atomic structure.
Some believe the lattice defect in the diamond that shows stress lamination during its formation is the cause of the red color. As light passes through the deformed internal structure, it is the light bending that exhibits the red color.
Given different sources and amounts of light passing through, red diamonds appear to exhibit different colors. Red diamonds shine the best and brightest under natural daylight, and appear much different and dull under fluorescent light.
These red diamonds are described as Blood red, brownish red, purplish red, Chinese red, Deep red, Port wine red, ruby red and Rose red and can have different sources which include Borneo, Brazil, India and South America
What Is The Largest Red Diamond?
Red diamonds are so rare that there is only a handful of unmodified reds available on the market, with most of them weighing less than 1 carat in weight. In fact, the world's largest red diamond is the Moussaieff Red, which weighed in at 5.11 carats and sold for $8 million at auction in 2001.