1. The first Fabergé Egg was created for the Russian Royal Family.
The famous Fabergé eggs were first created in 1885 when Emperor Alexander III commissioned Peter Carl Fabergé to create a spectacularly extravagant Easter gift to cheer up his young, homesick wife, Empress Maria Feodorovna.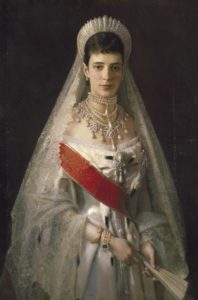 ---
Fabergé's original idea was to create an egg containing a diamond ring in the centre; however, the Emperor had other ideas and gave strict instructions that the final finished egg must contain a ruby pendant.
The egg had an opaque white enamelled outer shell which opened by twisting the two halves of the egg to reveal the first surprise – a matt yellow gold yolk. Following that, was an enamelled, chased gold hen that held a replica of the Imperial Crown with a precious ruby pendant egg.
His young wife was so impressed by her exquisite gift that the Emperor continued to have them made each year.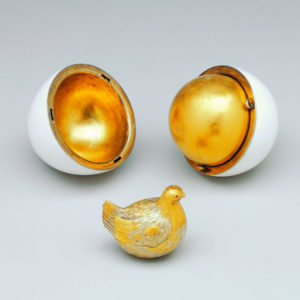 ---
2. Fabergé made a total of sixty nine spectacularly jewelled eggs.
In total, sixty nine spectacularly jewelled Easter eggs were made by Fabergé between 1883 and 1917. Fifty of these were made for the Russian Imperial family and are known as the 'Imperial Eggs'. The other eggs were made for the aristocracy and the industrial and financial elite. Known as Fabergé eggs, they are a symbol of overt luxury, but of the original sixty-nine, unfortunately only sixty-one remain.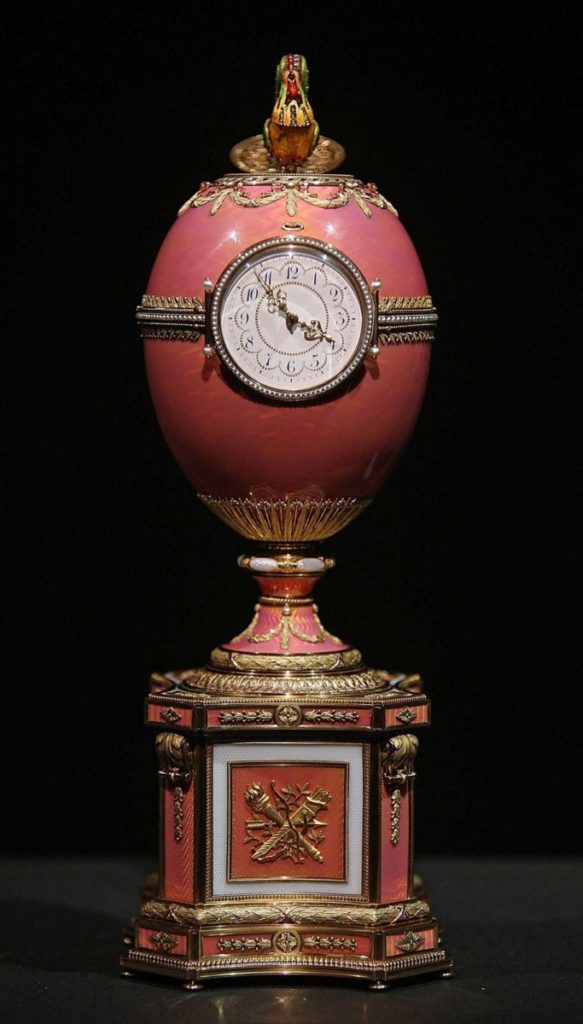 Béatrice Ephrussi de Rothschild presented this egg to Germaine Halphen upon her engagement to Béatrice's younger brother, Édouard Alphonse James de Rothschild.
Upon the hour, a diamond-set cockerel pops up from the top of the egg, flaps its wings four times, then nods his head three times, crowing all the while. This lasts for fifteen seconds before the clock strikes the hour on a bell.
---
3. Eight eggs are currently still unaccounted for.
When the Romanov family fell during the Russian Revolution of 1917, the fifty Imperial Eggs were sadly looted and scattered all around the world.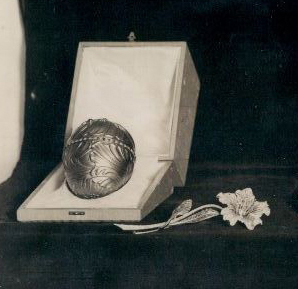 One of the missing eggs, the Imperial Fabergé Nécessaire Egg, was crafted in 1889 and was exquisitely set with diamonds, emeralds and rubies, and was intended to hold beauty tools. It was last seen at Wartski in June 1952 where it was sold to a mysterious buyer simply named 'A Stranger' for £1250.
---
4. One was found at a flea market.
Incredibly, in 2014, an American scrap metal dealer purchased the golden egg at a flea market for $13,300 (£8000), not realizing what he had found. When he failed to sell it on because prospective buyers thought it to be over priced, he decided to research the piece further. Only to discover that he was in fact the owner of a long lost Imperial Egg worth £20 million. The egg now belongs to a private collector.
The egg, known as the Third Imperial Egg, was given to Empress Maria Feodorovna for Easter in 1887.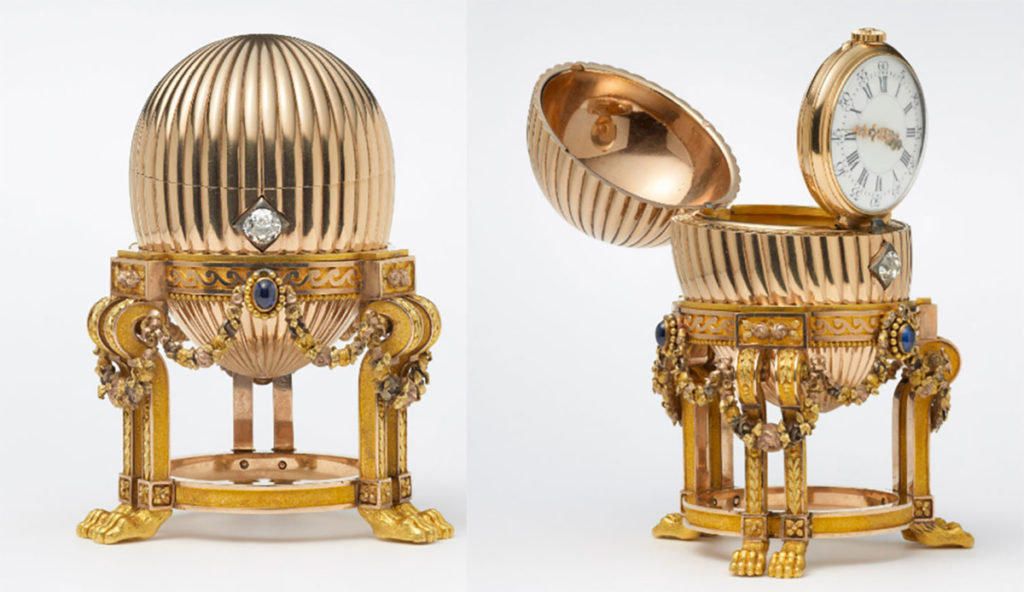 The reeded yellow gold egg opens by pressing the brilliant cut diamond, to reveal a Vacheron Constantin watch with diamond set gold hands that is hinged, allowing it to stand upright. The egg is supported on an elaborate sabléd gold stand, stood on lion paw feet and encircled by finely chased coloured gold garlands, suspended from three cabochon blue sapphires and topped with rose diamond set bows.
---
5. Fabergé also made eggs for another wealthy Russian family.
Another patron of Fabergé at the same time as the Romanov's was Alexander Kelch. Kelch commissioned a total of seven eggs for his wife Barbara as well as the famous Kelch Gothic Revival silver service; considered by Fabergé to be the most important silver masterpiece created by his workshop.
Whilst the eggs created for other families were incredibly luxurious, none matched the extravagance of the Imperial eggs.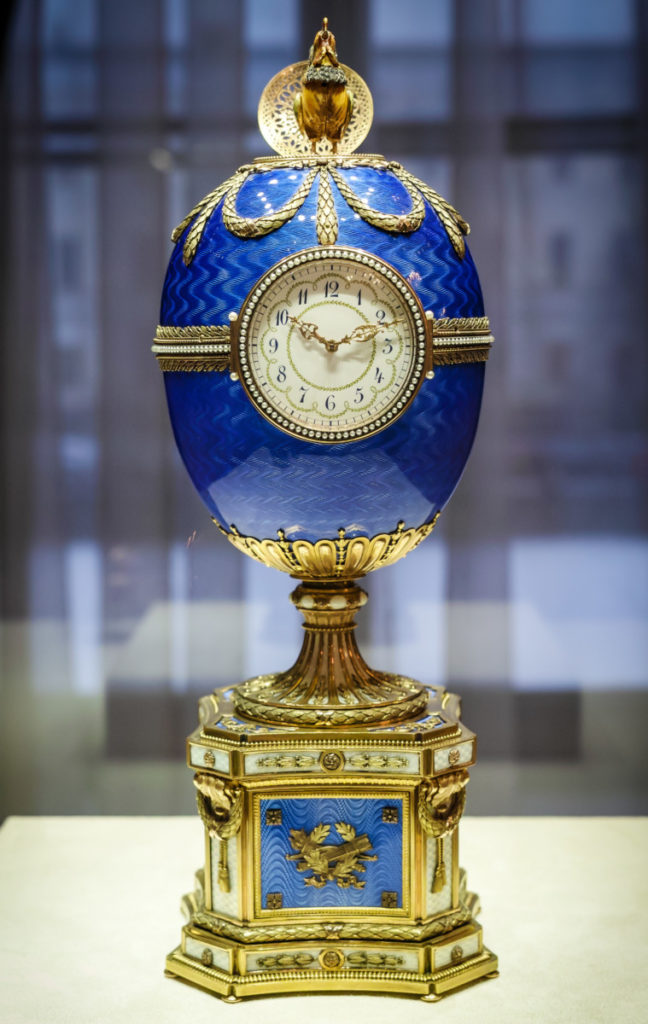 The Kelch Chanticleer Egg
---
6. Who owns them now?
Fabergé eggs are unsurprisingly the ultimate collector's piece. Not only are they incredibly elusive and part of possibly the largest Easter egg hunt in the world, but their craftsmanship and beauty are simply immeasurable.
King George V and Queen Mary were both keen collectors of Fabergé and in 1933, purchased three of the Imperial eggs for their own collection – The Mosaic Egg, The Colonnade Egg and The Basket of Flowers Egg. The collection now belongs to their daughter, Queen Elizabeth II, along with many other Fabergé items which she has also added to the collection.
Ten of the Imperial Eggs are on display at Moscow's Kremlin Armory Museum.
Many of the eggs belong to museums and private collectors.
One private collector, Viktor Vekselberg, owns a total of fifteen Fabergé This makes him the single largest owner of Fabergé eggs in the world. He owns nine Imperial, two Kelch, and four other Fabergé eggs. In a 2013 documentary by BBC Four, Vekselberg revealed that he had spent just over $100 million purchasing the nine Fabergé Imperial eggs from the Forbes collection.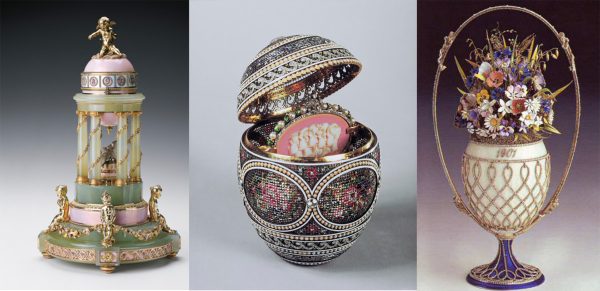 The Colonnade Egg, The Mosaic Egg with surprise and The Basket of Flowers Egg.
Owned by Queen Elizabeth II.
---
7. Each egg took a year or more to complete.
A team of highly skilled craftsmen worked in complete secrecy on each egg. Fabergé was given complete freedom with the design and execution of the eggs, with the only prerequisite being that there must be a surprise hidden within each one.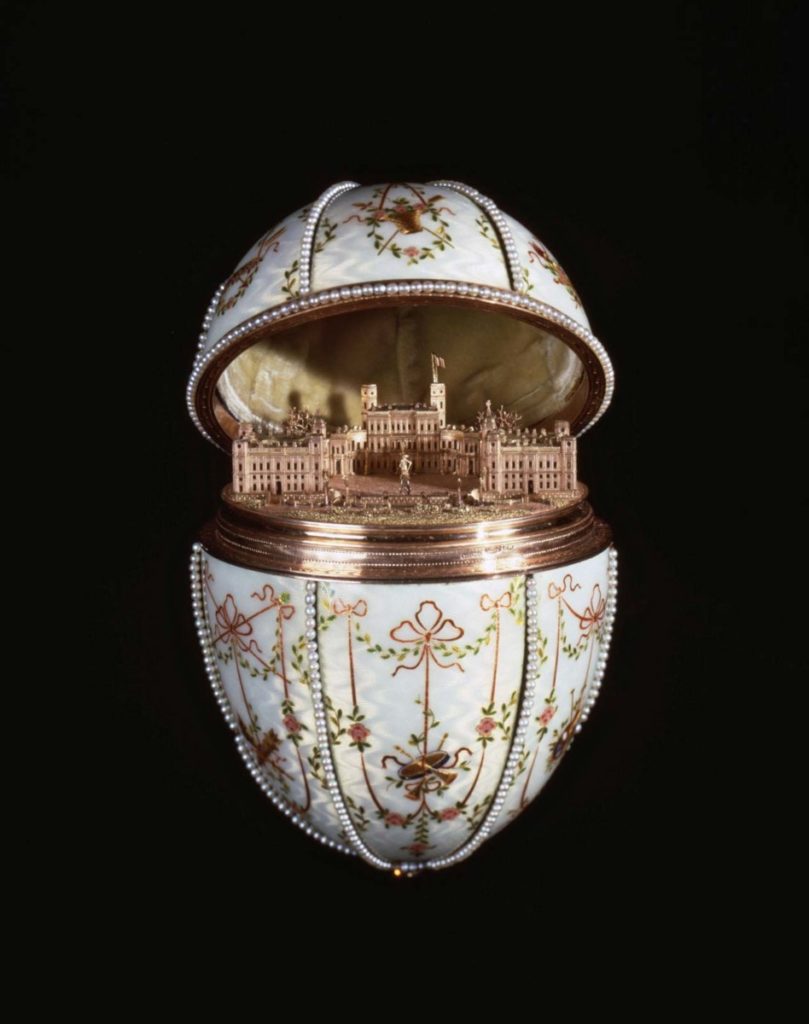 The Gatchina Palace Egg
---
8. Fabergé didn't just make eggs.
Although Fabergé is most famous for his Imperial Eggs, these only represent a small proportion of what the famous Fabergé Jewellery House created.
There was, of course, the jewellery and the silverware but also snuff boxes, table clocks, and even miniature items of furniture. In fact, any objet d'art you can think of, Fabergé has most likely made it.
For Fabergé, it was all about the design and innovation, not about what the item itself was. He took inspiration from the history of European arts as well as traditional Russian crafts to create his iconic pieces.
From left to right:
Jewelled parcel-gilt silver-mounted oak presentation desk. Circa 1906.
Fabergé diamond tiara. Circa 1890.
Rare Fabergé Imperial silver rhinoceros automaton. Circa 1909.
Carved hardstone model of a street painter. Circa 1916.
Silver and Cloisonné Enamel Kovsh. Circa 1908 – 1917.
---
9. Fabergé made a one of a kind 'Imperial' Egg in 2015.
Paying homage to the Imperial tradition, Fabergé collaborated with the Al-Fardan family, one of the world's most renowned collectors of pearls, to create a truly exquisite egg in the style of the famous Imperial Eggs. Drawing inspiration from the formation of a pearl within an oyster, the stunning Pearl Egg has a mother of pearl shell which opens up to reveal a unique 12.17ct grey pearl sourced from the Arabian Gulf which has exceptional purity and a highly unusual shade of grey.