Top 9 Places That Diamonds Are Found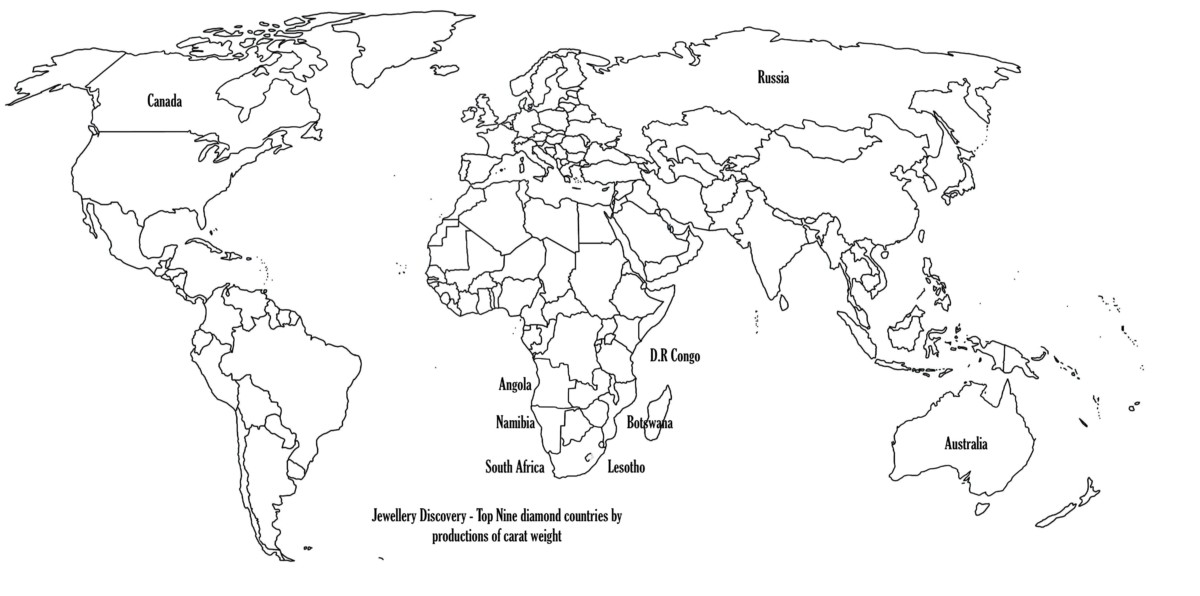 Below is a list of the Top 9 Places That Diamonds Are Found – the top diamond producing countries in 2018, by diamond weight:
Russia 23,000
Botswana 16,000
Canada 13,000
Angola 8,500
South Africa 7,700
DR Congo 3,700
Namibia 1,900
Lesotho 1,100
Australia 340
These values are estimated gem quality diamond production in thousands of carats Source – from USGS Mineral Commodity Summaries
1. Russia
Diamonds have been found in Russia since the 18th century.
The top place were diamonds are found is Russia, the largest diamond producer in the world.
The first significant Russian production was in 1957 and came from the Mir kimberlite pipe. Most of Russia's diamond production to-date has been from open-pit mines at the Mir and Udachnaya pipes in the Siberian Republic of Sakha.
Russia is home to five open-pit mines as well as fourteen alluvial placers and four underground mines located in Yakutia.  Another big mine is the Grib diamond mine.
Russia diamonds are most commonly known for their eight facets and sharp corners however they also have a good reputation for producing diamonds of all shapes, colours and clarities.

 Rough Diamond Mined at Mir Diamond Mine – Siberia, Russia
---
2. Botswana
Exploration of Botswana began in the 1950s but diamond mining didn't begin until 1971; and by the 1980s, Botswana had some of the highest yielding diamond mines in the world. Botswana has now been the second leading producer of diamonds for over a decade
The average size of a Botswana diamond is larger than those produced by Russia and are generally of higher quality, too.
The Jwaneng mine is commonly referred to as "the richest diamond mine in the world." This mine has been producing around 10 million carats of high-quality diamonds per year.
Diamonds account for about 60% of Botswana's exports and about 25% of its gross domestic product, making it the most important contributor to economic activity in Botswana.

472 carat diamond mined at Karowe Diamond Mine, Botswana
---
3. Canada
In 1991, Chuck Fipke and Stewart Blossom discovered a kimberlite pipe full of diamonds close to Yellowknife, in the Northwest Territories and so, the first Canadian mine was opened a few years later in 1998.
Canada currently has four working mines
Diavik
Ekati
Snap Lake
Victor
But mining is far from easy in Canada. The mines are in remote locations which are accessible only by icy roads, making transporting staff and supplies difficult. Despite these challenges, the diamond industry has thrived and lead to Canada becoming one of the leading diamond producers in the world.
Canadian diamonds are usually white or brown in colour and each Canadian diamond is accompanied by a certificate of authenticity which includes the official polar bear insignia from the Government of the North West Territories.
There have been many spectacular diamonds produced in Canada, including an incredible 552 carat yellow diamond that was unearthed at the Diavik Mine in 2018. It is the largest that has ever been found in North America.

552 carat Yellow Diamond Discovered at Diavik Mine, Canada
---
4. Angola 
Angola is well known for having an extensive resource of diamond deposits, particularly in the Lunda Norte and Lunda Sul provinces.
One of the most well-established mines in the country is the Catoca mine which currently ranks as the fourth largest diamond mine in the world. The Catoca mine produced around 7.65 Mct of diamonds from approximately 11.42Mt of ore in 2016, which accounted for 75% of Angola's total diamond. output.
The operating depth at the open-pit mine currently exceeds 245m.
Angola is known for producing large, round dodecahedral diamonds of medium and yellowish colour. Most of the diamonds are sourced through an agreement by the state-owned mining company, ENDIAMA.

1.39 carat Pink-Grey Diamond Discovered at Catoca Mine, Angola
---
5. South Africa
South Africa – Places were diamonds are found is full of mines and alluvial deposits.
Diamonds are even mined offshore in marina mines where they use specialist equipment to extract the diamonds from the seabed!
South Africa is known for producing some of the most breathtakingly beautiful diamonds in the world.
The largest and most famous diamond ever discovered was unearthed at South Africa's Premier Mine in 1905. The Cullinan Diamond this was an incredible 3,106.75 carats. This spectacular diamond has since been cut into 9 large diamonds, 96 small diamonds, and nearly 20 carats of unpolished chips.

3,106.75 carat Cullinan Diamond Discovered at South Africa's Premier Mine in 1905
---
6. The Democratic Republic of Congo
Despite the fact that only a small portion of the country has been mined, The Democratic Republic of Congo is still one of the world's leading producers of diamonds. The DRC has great potential to produce even more diamonds and move up the list of greatest contributors once more of the country has been explored. 
Because there are no official diamond producers in the DRC, most of the diamonds in the DRC are discovered through alluvial mining by artisanal miners.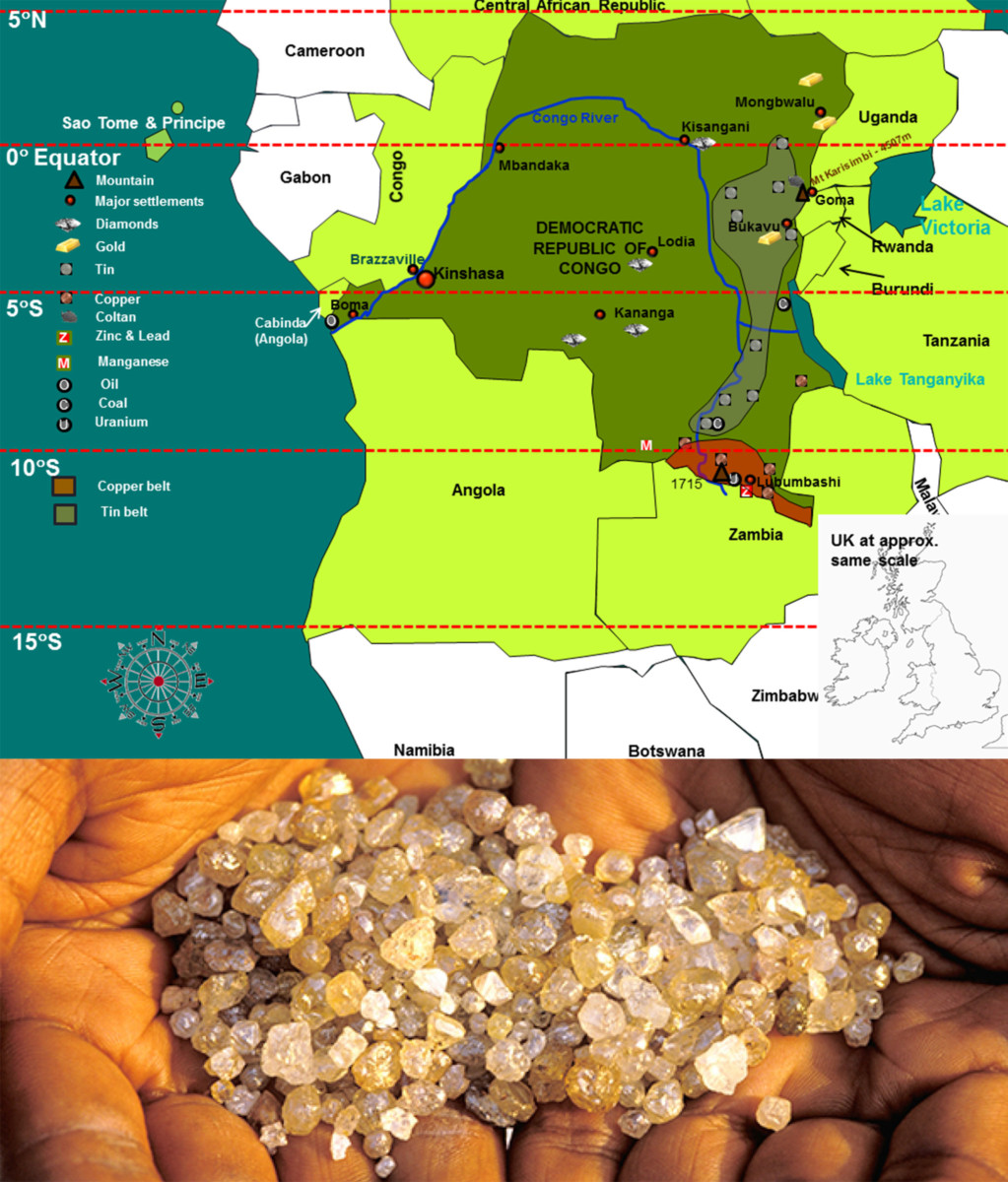 Map Shows Mining in DRC and Diamonds Discovered
---
7. Namibia 
Namibia's diamond mining journey began in 1908 when a railroad worker found a small diamond in the desert sand. This discovery sparked a huge diamond rush and extensive alluvial diamond mining activity began. Miners quickly developed innovative screening and jigging equipment to allow them to separate the diamonds from the sediment. 
In the 1920's, after World War I, raised beach deposits near the coast were discovered and have been mined continuously since. These beach deposits have produced the highest number of Namibian diamonds to date.
Because the beach deposits were so close to the ocean, miners came up with huge, innovative ships to mine diamonds off the coast of Namibia. These ships have equipment that trawls the ocean floor and scoops up sediment, delivering it to a processing plant onboard the ship. The processing plant detects the diamonds in the sediment stream, captures them and then releases the processed sediment back into the ocean. These incredible ships can process thousands of tons of sediment each day. Their innovative ways have made Namibia the world's leading undersea miner and more offshore mining occurs in Namibia than in any other country.
The diamonds produced from under sea mining are of outstanding quality. They undergo an incredible journey, from being unearthed from the interior of the African continent to being washed down river and deposited into the Atlantic Ocean, to being transported along the coast by the waves. Of course, any heavily included or fractured diamonds would be much more vulnerable on this journey, therefore it is mostly only the exceptional quality diamonds which have a high average value per carat which survive.

Namibian Rough Diamond and Diamond Mining Vessel
---
8. Lesotho
Lesotho may not produce a large number of diamonds per year but the diamonds that they do produce are consistently very large. Some of the diamonds mined yearly are over 100 carats each.
Lesotho has one main mine responsible for the majority of its diamond production – Letseng. It is also developing other diamonds mines including Lemphane, Liqhobong, the Mothae project and the Kao mine.
910 carat Diamond Discovered at Letseng Mine, Lesotho in 2018
---
9. Australia 
Australian diamond mining began in 1908 but it wasn't until 1981 that they began commercial diamond production. Australia soon became a significant part of the diamond industry.
They are now one of the leading producers of coloured diamonds in the world, predominantly producing pink, purple and red diamonds.

The majority of these spectacular diamonds are unearthed at Australias largest mine, Argyle. 
Originally an open pit mine, the Argyle mine is now an underground operation and produces around 12 million carats per year.
Australia also has two other mines which play a significant part in the mining industry, which is now considered one of Australias most powerful industries. These are the Ellendale and Merlin mines. However, production in recent years has declined sharply because deposits have been depleted and there have not been sufficient discoveries of new ones to replace them.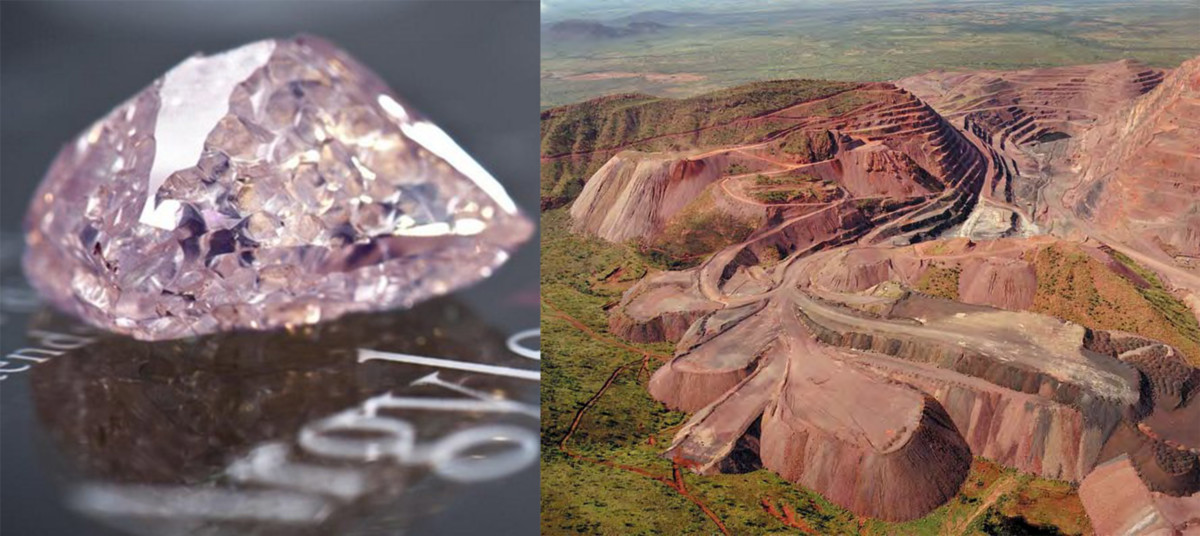 Argyle Pink Diamond Discovered at Argyle Diamond Mine, Australia
Thank you for reading Top 9 Places That Diamonds Are Found, you can now learn about diamond History by clicking here