SAPPHIRE ENGAGEMENT RINGS  
Your guide to choosing your sapphire engagement ring, the different designs from a classic cluster ring to a three stone ring and then the age antique, vintage or a stunning new design. 
What colour sapphire – blue, yellow, pink, orange, purple, black.
What style you like – Three stone, Cluster ring, single stone.
Import facts to know – How hard is a sapphire?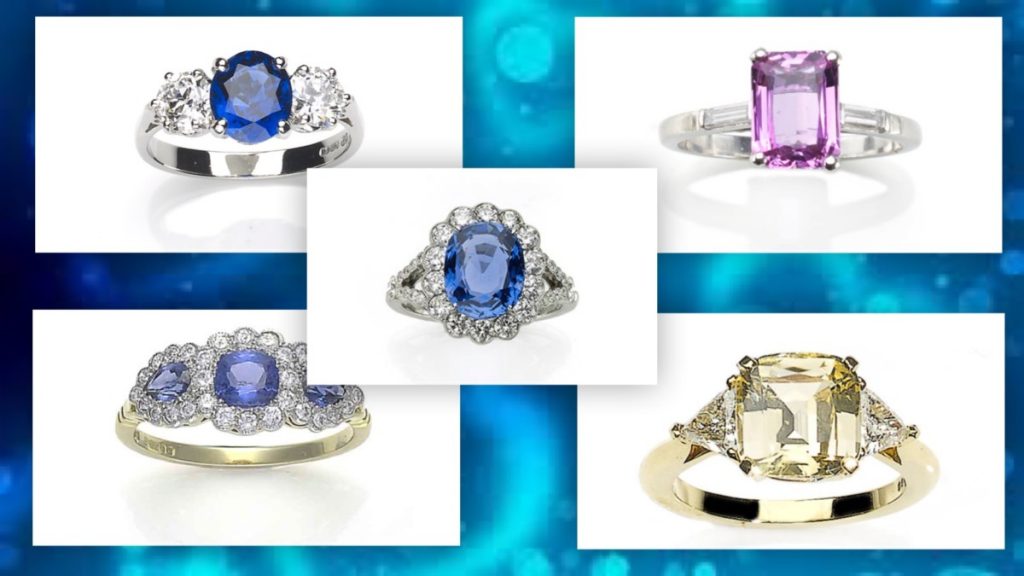 So what makes a sapphire a great choice for an engagement ring:
Sapphire is known as the wisdom stone, blue sapphires have been traditionally associated with Love and Purity.
The hardness of the sapphire following second from diamond in the Mohs scale which is how we determine the hardness of stone by a scratch test. Sapphire is 9. Where a diamond is 10- the hardest material.
Most famously associated with September birthdays.
Did you know that sapphires come in most colours except red as this is called a ruby. Ruby has a different chemical composition including pink, green, yellow, orange and purple as well as colourless and even black.
If you have decided a sapphire is your choice of ring, it can also take the pressure off of finding that "something blue" on your wedding day.
Sapphires are a popular stone in a lot of antique jewellery including the Edwardian, Victorian, and Art Deco periods.
Sapphires have long been a popular choice for engagement rings but have seen a significant rise in popularity since 2010 when Prince William famously proposed to Kate Middleton with his late mother's sapphire ring. The ring, which is set with a 12.00ct blue Ceylon sapphire surrounded by 14 solitaire diamonds was created by royal jeweller, Garrard.
Prince Charles originally bought the ring for Princess Diana in 1981 for £28,500 and it is now estimated to be worth At least £400,000.
What type of style:
If you're thinking of a classic sapphire engagement ring, you need to decide whether it will be a single stone, three-stone ring or with a surround of diamonds in a halo. This makes it a very hard decision when there are so many styles to look at. Maybe a sapphire with small side stones is just what you are looking for?
That's where we can help you go through the different designs:
Sapphire Cluster Rings 
Cluster rings can come in many different designs – small diamonds around the sapphire, larger diamonds creating a bigger statement ring or diamond in the centre and sapphires around. Then it's the shape of the centre stone. Will this be round, oval or rectangular.

Three stone sapphire and diamond rings 
This is becoming a more popular choice; getting the sparkle of the diamonds and introducing the colour. There can be a few different variations in shape – oval, round or square, diamond to each side or in the centre or diamond around the three sapphires.

Single stone with diamond set shoulders 
We love this choice as it really highlights the colour and shape of the sapphire with lots of design factors. The shape of the centre sapphire is, of course, is the first factor. Then if you want diamonds to the side which enhances the ring, these can be small round stones, trilliant or triangular cut diamonds.

Sapphire and diamond target rings 
An attractive style taken from the 1920's period. It consists of two or three tiers making a target look the first tier set with a  diamond. The next, calibre cut sapphires and sometimes a third layer of diamonds. Normally mounted in white gold or platinum.

Coloured sapphire rings 
With such an array of colours, they really stand out and make a more unusual choice. Here we have examples of purple sapphire, green sapphire, pink sapphire, Padparadscha sapphire and yellow sapphire.

Antique or vintage sapphire engagement rings 
This type of ring is the most special and each one is unique and rare to find and have already been loved and is looking for a new home. Dating back from the Victorian times up to Art Deco. The beauty of the workmanship is also a big factor not to be missed.